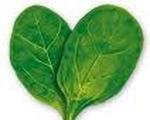 Prep: 30 min
Cook Time: 1 hr 10 min
Total: 1 hr 40 min
Serving: 15-20
This Greek inspired Light Spinach Pie has all the traditional flavors but less calories.
Ingredients
2 pounds of spinach, rinsed,trimmed and drained overnight
2 cups green onions chopped
2 cups feta cheese crumbled
2 cups low-fat (2%) cottage cheese
1 1/2 cups liquid egg substitute
1 teaspoon salt
1/2 teaspoon white pepper
1/2 pound corn-oil margarine, melted
1 pound phyllo sheets, thawed, handled as directed on package
Directions
Chop spinach and combine with green onions in a large mixing bowl.
Add feta cheese, cottage cheese, egg substitute, salt and pepper.
Pour half the melted margarine (1/2cup) over spinach mixture and toss lightly to combine all ingredients.
Preheat oven to 350 degrees F. Spray a 15 by 10 inch casserole with vegetable spray. Put 4 phyllo sheets on bottom of dish, brushing each with a small amount of melted margarine.
Sprinkle with one third of spinach mixture. Repeat 2 times and end with 6 phyllo sheets on top.
Bake pie for 30 minutes. Remove from oven and pour remaining margarine (1/4 cup) over entire pie. Return to oven and continue baking for 30 more minutes.
Allow to cool slightly, about 10 minutes, before cutting into squares.