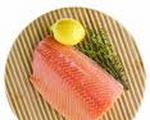 Prep: 3 hr 15 min
Cook Time: 2 min
Total: 3 hr 17 min
Serving: 10
Decorated with thinly sliced cucumbers, serve Light Salmon Mousse as an elegant appetizer.
Ingredients
1, 14 3/4 ounce can red or pink salmon, drained, reserve juice
1 cup plain fat free yogurt
1 cup non fat cottage cheese
1 packet unflavored gelatin
1/4 cup fresh dill, chopped
black pepper to taste
cucumber, peeled and thinly sliced
Directions
Put salmon in large bowl. Remove skin. Mash fish with bones. In a blender, combine yogurt, cottage cheese. Pour into salmon. Stir in chopped dill.
Pour salmon liquid into small pan. Over low heat, stir in gelatin until dissolved, about 2 minutes. Add to salmon; mix thoroughly.
Line bottom of 4 cup mold, bowl or loaf pan with cucumber slices. Pour in salmon mixture. Chill 3 hours. Unmold, serve with crackers.