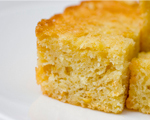 Prep: 10 min
Cook Time: 15 min
Total: 25 min
Serving: 6 Servings
Cornbread is delicious, but can have a particularly dense consistency. Try this lighter version that uses buttermilk for a more fluffy texture, while also adding a rich and distinctive tang. Feel free to add your own additions to the batter, including chopped scallions, corn kernels or even mined jalapeno peppers.
Ingredients
3/4 cup plus 1 tablespoon yellow cornmeal
2/3 cup all-purpose flour
1 tablespoon baking powder
2 teaspoons sugar
1/4 teaspoon salt
2/3 cup light buttermilk
1 egg
1 egg white
Directions
Preheat the oven to 350 degrees.
Spray an 8x8-inch baking dish with cooking spray.
In a large bowl, combine the cornmeal, flour, baking powder, sugar and salt; mix well with a wire whisk. In another bowl, mix the buttermilk, egg and egg white together with a fork. Add the buttermilk mixture to the cornmeal mixture taking care not to over mix.
Pour the batter into the baking dish, using a rubber spatula to scrape the sides; spread evenly in the pan. Bake bread until toothpick inserted in the center comes out clean and bread is golden brown, approximately 15 minutes.
Remove from oven and cool for 5 minutes on a rack before serving.