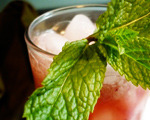 Prep: 1 hr 40 min
Cook Time: –
Total: 1 hr 40 min
Serving: Serves 4-6
This radicchio, romaine and fresh herb salad works great as a side or better yet as a hearty main dish with its combination of marinated chickpeas, provolone, mozzarella, salami, and onions.
Ingredients
8 tablespoons extra-virgin olive oil
4 tablespoons red wine vinegar
1/2 teaspoon dried thyme
1/2 teaspoon dried oregano
1/4 teaspoon dried mustard
1/4 teaspoon crushed red chile flakes
1 clove garlic, smashed and minced into a paste
1 12-ounce can chickpeas, drained
4 ounces sliced provolone, cut into 1/4-inch strips
4 ounces baby mozzarella balls, drained and quartered
1 4-ounce piece salami, halved lengthwise and thinly sliced crosswise into 1/4"-thick pieces
1/4 red onion, thinly sliced
1 cup fresh basil leaves, torn
1/4 cup loosely packed flat-leaf parsley
1/4 cup loosely packed mint leaves
2 hearts of romaine, finely chopped
1 head radicchio di Treviso or regular, roughly chopped
Sea salt and freshly ground black pepper
Directions
Place the oil, vinegar, thyme, oregano, mustard, chile flakes, and garlic in a bowl and whisk vigorously until thoroughly blended.
Add the chickpeas, provolone, mozzarella, salami, and onions to the bowl, cover and let marinate at room temperature for 1-1/2 hours.
Combine the basil, parsley, mint, romaine, and radicchio in a large bowl and top with the marinated chickpea mixture. Season with a few pinches of salt and pepper and then serve immediately.