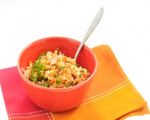 Prep: 7 min
Cook Time: 30 min
Total: 37 min
Serving: 4
Get your fill of Power Foods with this hearty dish. Sweet potatoes and dark green spinach decorate nutty lentils for a satisfying high-fiber meal. If this is your first lentil dish, be sure to sift through dry lentils and discard those that are broken or off color.
Ingredients
1 teaspoon olive oil
1, 4-ounce onion, chopped fine (about 3/4 cup)
1 large clove garlic, minced
4 cups water
1, 8-ounce sweet potato, chopped fine (about 1 cup)
¾ cup green or brown lentils, rinsed, picked over
1 dried bay leaf
1 pound baby spinach, trimmed, washed, drained (about 4 cups)
Pinch cayenne
Pinch salt
Black pepper to taste
Directions
Heat oil on medium-high in a large nonstick saucepan.
Cook onions and garlic, stirring often, until onion is soft, about 3 to 4 minutes.
Add water, sweet potato, lentils and bay leaf.
Bring to a boil then partially cover and reduce heat to low.
Simmer until sweet potato and lentils are tender, about 15 to 20 minutes.
Drain and discard bay leaf.
Return pot to burner set on medium-low, stir in spinach and spices and cook until spinach wilts, about 2 to 3 minutes.
Remove from heat and serve warm.