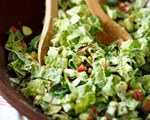 Prep: 15 min
Cook Time: 30 min
Total: 45 min
Serving: Serves 4
Try this refreshing, zesty salad to kick off the warm season!
Ingredients
3/4 cup dried green lentils – rinsed
1/2 cup quinoa – rinsed
1 cup fresh asparagus cut into 1-inch pieces
1/2 cup EVOO
1/4 cup pomegranate red wine vinegar (or you can use 1/8 cup red wine vinegar and 1/8 cup pomegranate juice)
1 tbsp. grated ginger
1 1/4 tsp. salt
1/2 tsp. ground pepper
1/4 tsp. dried red pepper flakes
3/4 cup fresh mint leaves – chopped
1/2 cup toasted pine nuts
6 cups mixed radicchio and arugula leaves
Directions
Cook lentils and quinoa according to the package directions, cool and set aside. Cook the asparagus by steaming or boiling it for 1 minute.
Meanwhile, combine the oil, vinegar, ginger, salt, black pepper, and pepper flakes in a medium bowl.
Add the cooled lentil mixture, mint, and pine nuts to the oil mixture and toss gently until coated.
Serve over arugula and radicchio mix.