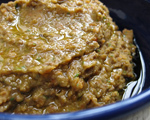 Prep: 10 min
Cook Time: 35 min
Total: 45 min
Serving: Makes about 2 cups
A delicious alternative to classic hummus made with chickpeas; this lentil spread is heavenly slathered over crackers or warm pita.
Ingredients
1 cup lentils, preferably brown
3 cups water
half of a cinnamon stick
1 whole sprig fresh rosemary or 5-6 sprigs fresh thyme
1 bay leaf
3 cloves garlic, peeled
2 tablespoons olive oil
1 small onion, diced
1 cup minced carrots
1/2 teaspoon crushed red pepper flakes
1/4 teaspoon allspice
1/2 cup white wine
1 tablespoon minced fresh rosemary or 4 tablespoons minced fresh parsley or cilantro
2 tablespoons extra virgin olive oil, plus extra for garnishing
Salt and pepper
Directions
Place the lentils, cinnamon, rosemary, bay leaf and garlic in a pot and cover with water. Bring the mixture to a boil and then reduce the heat to medium-low and simmer, partially covered, for 35 minutes. Remove and discard the cinnamon, rosemary and bay leaf, and then place the cooked lentils into a food processor.
In the meantime, place the olive oil in a large sauté pan over medium heat and sauté the onions for 5 minutes. Stir in the carrots, hot pepper, allspice and a few pinches of salt and pepper and continue to cook the mixture for 5 minutes. Pour in the wine, cover the pan and simmer the mixture until the vegetables are soft, then continue to cook until all of the wine has evaporated.
Transfer the onion mixture to the food processor with the lentils and puree until smooth. Add the fresh herbs, olive oil and a few pinches of salt and pepper. Pulse until blended and then serve immediately.