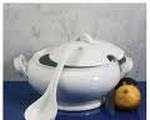 Prep: 15 min
Cook Time: 50 min
Total: 1 hr 5 min
Serving: 6
A true Vegan classic, Lentil Chili becomes a hearty meal when served with a loaf of multi-grain artisan bread.
Ingredients
8 cups vegetable broth, divided
1 medium onion, chopped
1 large red bell pepper, chopped
5 garlic cloves, finely chopped
4 teaspoons chili powder
1, 16 ounce package brown lentils, rinsed and sorted
2, 15 ounce cans diced tomatoes
1/4 cup cilantro, chopped
Directions
Bring 3/4 cups broth to a simmer in a large pot. Add onion, red pepper and garlic and cook about 8 minutes or until onion and pepper are tender.
Stir in chili powder and cook 1 minute, stirring constantly. Add lentils, tomatoes and remaining broth.
Bring to a boil, reduce heat to medium-low and simmer, partially covered, for 30 minutes or until lentils are almost tender. Uncover and cook an additional 10 minutes. Stir in cilantro and serve.