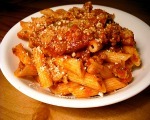 Prep: 10 min
Cook Time: 25 min
Total: 35 min
Serving: Makes about 8 cups of sauce
A meat-free alternative to the traditional Bolognese sauce, Lentil Bolognese Sauce can be used over pasta or even vegetable dishes.
Ingredients
1 onion, chopped
2 garlic cloves, crushed
2 carrots, coarsely grated
2 celery stalks, chopped
3 tablespoons olive oil
2/3 cup red lentils
1, 14-ounce can chopped tomatoes
2 tablespoons tomato paste
2 cups vegetable stock
1 tablespoon dried marjoram
Salt & pepper to taste
Directions
Using a large saucepan over medium-high heat, add the olive oil. Lightly stir fry the onion, garlic, carrots and celery for about 5 minutes, or until soft.
Add the lentils, tomatoes, tomato paste, stock and seasonings to the mixture. Bring the mixture to a boil, partially cover and simmer for about 20 minutes, or until thick and soft.