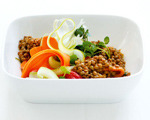 Prep: 30 min
Cook Time: 12 min
Total: 42 min
Serving: 4 Servings
You can add additional texture and flavor to this dish by adding lightly-fried cubes of tofu or crumbled bacon or pancetta.v
Ingredients
2 orange peppers
2 red peppers
8 cloves of garlic
olive oil
2 14-16 ounce cans lentils, drained, or 4 cups cooked lentils
3 tablespoons sun-dried tomato pesto
1/2 cup olives, chopped
1 red onion, chopped
12 basil leaves, chopped
Sea salt and freshly ground pepper
Directions
Prepare your oven broiler.
Put the garlic, orange and red pepper onto a baking sheet and brush generously with olive oil. Place the vegetables into the oven and cook until slightly charred.
Remove the pan from the oven and place the peppers into a bowl. Cover the bowl with plastic wrap and then set aside for 20 minutes.
Take the peppers out of the bowl, peel and then remove their stems and seeds. Slice the peppers and then place into a bowl with the garlic, lentils, sun-dried tomato pesto, olives, onion and basil leaves. Add a drizzle of oil and a few pinches of salt and pepper to taste, toss to coat and then place in the refrigerator for 45 minutes to chill before serving.