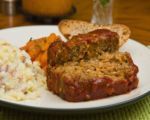 Prep: 25 min
Cook Time: 45 min
Total: 1 hr 10 min
Serving: Serves 8-10 people
This traditional dish gets a meat-free twist. Lentil & Rice No-Meat Loaf is hearty and full of protein and fiber. Serve with a salad and crunchy bread -- your family won't miss the meat!
Ingredients
3 cups of water
3/4 cup of uncooked lentils, sorted and rinsed
1 cup of regular, uncooked white rice
1/2 cup of finely chopped onion
1/2 teaspoon of salt
1/2 teaspoon of garlic powder
1/2 teaspoon of dried Italian seasoning
1/2 teaspoon of ground black pepper
1, 14-ounce jar of marinara sauce
1/2 cup of breadcrumbs
1/2 cup of shredded carrot
2 eggs, slightly beaten
1/2 cup of cheddar cheese
Directions
Preheat your oven to 350 degrees. In medium saucepan, combine water and lentils. Bring to a boil. Reduce heat, cover & simmer for about 5 minutes. Add rice, onion and salt. Mix well. Cover & simmer for 15-18 minutes until the liquid is absorbed and lentils/rice are tender. Remove from heat & cool for 10 minutes.
Grease an 8x4-inch glass loaf pan (don't use metal). Use a casserole dish if you need to. Stir in ½ cup of the pasta sauce and remaining ingredients into the lentil mixture. Mash it up a bit as you mix it. Press it firmly into your greased pan.
Bake for 40-45 minutes or until the top of the loaf is golden. Remove from oven & cool for 10 minutes.
Heat up the remaining pasta sauce and spoon it on top of each slice.