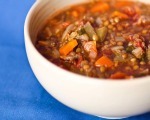 Prep: 10 min
Cook Time: 1 hr
Total: 1 hr 10 min
Serving: Serves 4 people
Hearty, healthy and delicious, Lentil & Pasta Soup is a great vegetarian option for dinner or lunch. Serve with crunchy artisan bread.
Ingredients
2 cups lentils, rinsed and drained
1/4 pound very small pasta (or you can break spaghetti into very small pieces)
1 cup of whole plum tomatoes with juice, chopped
1 small onion, chopped
2 garlic cloves, minced
1 medium-sized carrot, chopped into small pieces
1 celery stalk, chopped into small pieces
1/4 cup zucchini, chopped into small pieces
1 teaspoon dried rosemary
3 tablespoons olive oil
6 cups low-sodium vegetable broth
Salt to taste
Fresh ground black pepper to taste
1/4 cup freshly grated Parmesan cheese for garnish
Directions
Using a large pot over medium-high heat, heat the olive oil. Add the vegetables and rosemary and saute until the vegetables are soft (about 3 minutes).
Add the lentils and tomatoes to the vegetables and cook for about 5 minutes, stirring occasionally. Increase to high heat and add the broth. Bring the mixture to a boil. Add the salt, stir, reduce the heat and simmer, partially covered, for about 35 minutes (or until the lentils are tender). If the soups begins to become dry, add a bit of water.
When the lentils are soft, add the pasta and stir occasionally. Cook until the pasta is al dente. Season the soup with salt and pepper. Serve in individual bowls and top with the Parmesan cheese. Serve warm.