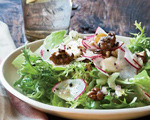 Prep: 15 min
Cook Time: 7 min
Total: 22 min
Serving:
This new 'lemony' take on a classic Waldorf salad is full of various flavors and textures including: walnuts, lemon, radishes, celery, raisins and apple. Serve with a French baguette and a bottle of Pinot Noir.
Ingredients
1/2 cup walnut halves, 2 ounces
1 tablespoon minced shallot
1/2 teaspoon finely grated lemon zest
2 tablespoons fresh lemon juice
1 tablespoon white wine vinegar
1/4 cup plus 2 tablespoons canola oil
2 tablespoons walnut oil
1/2 teaspoon ground cumin
Salt and freshly ground pepper
2 cups shredded romaine lettuce, 4 ounces
4 large radishes, halved lengthwise and thinly sliced crosswise 1 cup
1 cup thinly sliced celery hearts s, from 4 inner ribs plus 1/4 cup chopped celery leave
1 small head of frisée, 6 ounces coarsely chopped
1/4 cup golden raisins
1 Fuji apple-peeled, quartered cored and thinly sliced crosswise
Directions
Preheat your oven to 350 degrees.
Evenly spread the walnuts in a single layer onto a baking sheet and then place in the oven for 7 minutes to toast. Remove from the oven and break into pieces once cool enough to handle.
In the meantime, place the shallot, lemon zest, lemon juice, vinegar, oils, cumin and a few pinches of salt and pepper into a bowl and whisk vigorously to blend.
Put the lettuce into another bowl with the walnuts, radishes, celery, frisée, raisins and apple. Add the dressing and then toss the salad to coat. Serve immediately.