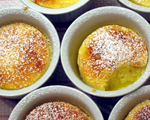 Prep: 20 min
Cook Time: 50 min
Total: 1 hr 10 min
Serving: 6 Servings
A delicate and light cake pudding made from fresh lemon juice and grated lemon rind. This elegant and refreshing dessert is the perfect cap to a rich and hearty meal.
Ingredients
1/4 cup flour
1 cup sugar
1/4 teaspoon salt
1-1/2 teaspoons grated lemon rind
2 eggs separated into yolks and whites
1/4 cup lemon juice
1 cup milk
Directions
Preheat oven to 350 degrees.
In a large bowl, sift together the flour, sugar, salt and lemon rind.
In a small bowl, beat the egg yolks with a handheld mixer until well beaten. Rinse off the mixer beaters and in a medium bowl, beat the egg whites until they form stiff white peaks.
Add the lemon juice, egg yolks, and milk to the flour mixture; stir until well blended. Carefully fold in the egg whites.
Pour the mixture into 6 custard cups and place the cups in a cooking pan filled with 1-1/2 inches of water.
Bake for 50 minutes, remove and dust with powdered sugar.