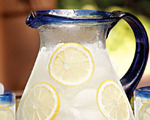 Prep: –
Cook Time: –
Total: –
Serving: 8 People
If you want to surprise – and delight – your family or friends, serve this refreshing, old-fashioned drink. Yes, it's made "from scratch," but it couldn't be easier – a 10-minute undertaking, max! Best of all, you avoid all the unrecognizable ingredients in processed or powdered lemonade.
From Simple, Fresh & Healthy by Linda Hafner, Beaufort Books, 2010. Photo copyright 2010 by Jim Scherzi.
Ingredients
4 lemons
1 cup sugar
2 cups water
1/2 cup fresh mint leaves, washed
Additional mint sprigs and lemon slices, for garnish
Directions
Prepare a "simple syrup" by pouring the water into a small saucepan. Stir in the sugar and place over medium heat, stirring until dissolved.
Wash the lemons. Before juicing, press the heel of your hand into the lemons and roll them on the counter top to help release juice. Halve and squeeze the juice from the lemons. You should have about 1 cup of lemon juice.
Combine the lemon juice with the simple syrup and transfer to a pitcher.
Add 2 quarts of water, stir in the mint leaves, and chill.
Serve chilled lemonade over ice cubes and garnish with additional mint sprigs and lemon slices, if desired.