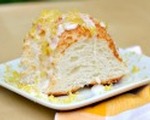 Prep: 15 min
Cook Time: 37 min
Total: 52 min
Serving: 8-10 People
Angel food cake is one of the best desserts out there for people who are watching their weight. Made with no oil, butter and only egg whites, this fluffy, springy dessert is delightfully low in fat and calories. This recipe takes the original favorite and zests it up with some fresh lemon! Serve this cake on it's own or with a drizzle of lemon icing for a perfectly light, fluffy and delicious treat!
Ingredients
1-3/4 cups sifted sugar
1-1/4 cups sifted cake flour
10 egg whites, room temperature
Sea salt
1 teaspoon cream of tartar
1 teaspoon vanilla extract
1-3/4 teaspoons lemon juice
1 medium lemon's worth of zest
Directions
Preheat oven to 350 degrees F.
Pour 1/2 cup sugar and flour in a mixing bowl, mix with a wooden spoon and set aside.
In a large metal or glass mixing bowl, place eggs, cream of tartar and vanilla. Beat on medium until firm peaks form. Add in remaining sugar and whisk until fully mixed and egg whites are very fluffy. Whisk in lemon juice and zest until mixture is very thick.
Add the flour mixture, about 1/4 cup at a time, whisking between each addition.
Pour mixture into an angel food pan or bundt pan that is ten inches (if you use smaller, it'll overflow). Smooth the top and then bake for 37-40 minutes, or until cake is golden brown. Remove the cake from the oven and let cool completely on a cooling rack.