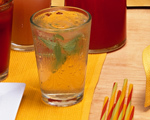 Prep: 35 min
Cook Time: 5 min
Total: 40 min
Serving: Makes about 1 liter
Lemon verbena, also known as lemon beebrush, smells and tastes like its name suggests. Try it in this refreshing non-alcoholic beverage.
Ingredients
1 liter still mineral water
2 lemon verbena stems and some to garnish
5 fresh mint leaves
3 tablespoons honey
Directions
Place the mineral water into a saucepan and bring to a boil.
Once boiling, remove from heat and add the lemon verbena, mint, and honey. Stir to combine and allow the mixture to steep for 10 minutes.
Strain the mixture and place in the refrigerator to cool for 20 minutes, and then pour into glasses filled with ice and serve garnished with a lemon verbena stem.