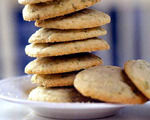 Prep: 10 min
Cook Time: 8 min
Total: 18 min
Serving: Makes 36 cookies
Lemon Verbena has a clean, sharp lemon scent that makes it a wonderful addition to beverages and various dishes. Enjoy its lemony aroma and tangy taste in this simple cookie recipe.
Ingredients
2-1/2 cups all-purpose flour
2 tablespoons dried lemon verbena leaves, crushed
2 teaspoons baking powder
1/4 teaspoon salt
1 cup butter, softened
1-1/2 cups sugar
2 eggs
1 teaspoon vanilla
Directions
Preheat your oven to 350 degrees.
Place the flour, lemon verbena leaves, baking powder, and salt into a bowl and stir to combine.
In another bowl, beat the butter until creamy and then add the sugar, eggs and vanilla; continue to beat until thoroughly blended.
Sprinkle in half of the flour mixture to the butter mixture, beat well to combine and then stir in the remaining flour mixture, stirring vigorously until blended.
Using a spoon, drop rounded spoonfuls of the mixture onto a baking sheet, leaving at least 2-inches of space between each serving. Place in the oven for 8 minutes or until the edges are lightly browned. Cool and serve.