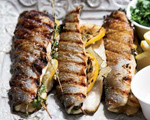 Prep: 10 min
Cook Time: 14 min
Total: 24 min
Serving: 4 Servings
Brazino is the European version of a sea bass. Stuff these delicious pieces of fish with a mixture of thyme, bay leaves, and lemon slices prior to grilling for amazing added flavor and aroma.
Ingredients
4 1-pound whole branzino-scaled and gutted, heads and tails removed
Salt and freshly ground pepper
4 thyme sprigs
4 bay leaves
1 lemon, thinly sliced
1-1/2 tablespoons extra-virgin olive oil
Finely chopped parsley, for serving
Directions
Prepare a grill on high heat.
Season the fish, both inside and out, with a few pinches of salt and pepper, and then stuff with a sprig of thyme, a bay leaf and 2 slices of lemon.
Brush the fish with the olive oil and season once again with salt and pepper. Place the stuffed fish on the grill and cook for 14 minutes, flipping once, halfway through the cooking time. Serve immediately garnished with the chopped parsley.