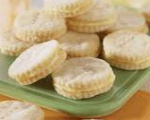 Prep: 2 hr
Cook Time: 30 min
Total: 2 hr 30 min
Serving: 4 1/2 dozen
Homemade leamon butter cookies with a lemon filling.
Ingredients
2 cups flour
1 1/4 cups butter, softened and divided
1/3 cup whipping cream
1/2 cup sugar, divided
1 teaspoon lemon peel
1/8 teaspoon lemon extract
3/4 cup powdered sugar
1-3 teaspoons lemon juice
1 teaspoon vanilla
Food coloring (optional)
Directions
Mix together the flour, 1 cup butter, cream, 1/4 cup sugar, lemon peel and lemon extract. Beat until well blended. Divide into three parts and wrap in wax paper. Chill until firm.
Preheat the oven to 375 degrees Fahrenheit. Add the remaining sugar to a bowl.
Roll the doughs out to 1/8 inch thickness on a floured surface. Use a 1 1/2 inch round cookie cutter to cut out the dough. Dip in the sugar, coating both sides.
Place the cookies 1 inch apart on cookie sheets, and use a fork to pierce the top of the cookies.
Bake for 6-9 minutes or until slightly puffed (not browned). Cool for 1 minute before moving to racks.
To make the filling: Mix the powdered sugar, remaining butter, lemon juice and vanilla in a bowl. Beat until smooth, and tint with the food coloring, if desired.
Spread 1/2 teaspoon of the filling onto the bottom of half the cookies. Top with the other half.