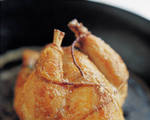 Prep: 15 min
Cook Time: 1 hr 25 min
Total: 1 hr 40 min
Serving: 6
Lemon Roast Chicken has no added fat because this bird's self-basting.
Ingredients
1, 3 to 4 pound chicken, washed, drained and patted dry
salt and freshly ground black pepper
2 small thin skinned lemons, washed and dried
Directions
Preheat oven to 350 degrees F.
Season chicken inside and out with salt and pepper. Roll each lemon on the counter pressing with the palm of your hand. Puncture each lemon in 20 places with a fork. Place both lemons in the cavity.
Seal the opening with toothpicks; Run kitchen string from one leg to the other and tie it at the knuckle ends; Set the chicken breast down in a roasting pan.
Place in upper third of the oven and roast for 30 minutes. Carefully turn the chicken onto its back and cook for another 30 to 35 minutes.
Turn the oven up to 400 degrees F and cook for an additional 20 to 25 minutes or until juices run clear. Leave lemons inside until it is carved. Serve chicken with juices.