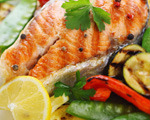 Prep: 15 min
Cook Time: 20 min
Total: 35 min
Serving: 4-6 People
The perfect summer grilling recipe - fresh lemon salmon and summer vegetables. Easy and delicious to make for a summer evening!
Ingredients
4 (6 ounce) salmon fillets
1/4 cup packed brown sugar
1/4 teaspoon garlic powder
1/2 teaspoon lemon-pepper seasoning
3 tablespoons fresh dill, chopped
4 tablespoons lemon juice
1 tablespoon grated lemon rind
1 tablespoon minced garlic
1 tablespoon olive oil
1 cup zucchini, sliced
1 cup yellow squash, sliced
1 sweet onion, sliced
Directions
In a small bowl, combine garlic powder, lemon-pepper, fresh dill, lemon juice, minced garlic, and packed brown sugar. Stir well and pour into large resealable plastic bag.
Place salmon fillets into bag and marinate in refrigerator for 1 hour, turning once to ensure even coating.
Drain marinade. Brush grill with olive oil. Place salmon fillets (skin side down) over medium heat on grill.
Sprinkle lemon rind on salmon fillets. Cook for 15-20 minutes or until salmon flakes easily.
Sprinkle zucchini, squash, and onion with salt and pepper to taste. Place on medium heat on grill. Grill for 5-10 minutes or until tender.