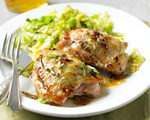 Prep: 15 min
Cook Time: 35 min
Total: 50 min
Serving: 4 Servings
Rubbing fresh ginger, lemon juice and shredded lemon peel under the skin of the chicken prior to cooking, adds intense flavor and aroma. Serve this dish with an iceberg lettuce salad dressed with homemade buttermilk dressing.
Ingredients
1 lemon
1 tablespoon grated fresh ginger
1/2 teaspoon salt
2 tablespoons honey
1 tablespoon reduced-sodium soy sauce
8 chicken thighs with bone
2 teaspoons olive oil
Directions
Remove the lemon peel from the lemon, finely shred and then place into a bowl. Add the peel, the ginger and the salt and mix thoroughly to combine. Gently lift up the chicken skin and run the lemon peel mixture onto the meat; set aside.
In another bowl, whisk the lemon juice, honey, soy sauce and 2 tablespoons of water together until thoroughly blended.
Place a large sauté pan over medium-high heat and add the oil. Once the oil begins to shimmer, place the chicken into the pan, skin side down, and cook for 8 minutes, then flip the chicken and top with the honey mixture. Cover the pan and cook over medium-low heat for 16 minutes.
Remove the chicken from the pan and place onto serving plates. Spoon on any pan juices and serve immediately.