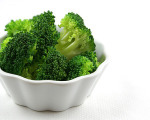 Prep: 5 min
Cook Time: 6 min
Total: 11 min
Serving: Serves 6 people
Great for most any meal, lemon garlic broccoli is an easy, fresh and nutritious side-dish. Use lemon-flavored olive oil if you have it, to enhance the dish.
Ingredients
1 pound of broccoli florets
2 teaspoons of lemon zest
1 teaspoon of minced garlic
1 tablespoon of olive oil (lemon flavored, if available)
1 tablespoon of water
1 tablespoon of lemon juice
Salt and pepper to taste
Parmesan cheese for garnish
Directions
In a microwave-safe bowl, add broccoli florets, lemon zest, garlic, olive oil and 1 tablespoon of water. Stir ingredients to coat them.
Cover the bowl and microwave it on high for about 4-5 minutes. Check the tenderness of the florets, and cook one minute longer if needed.
Sprinkle lemon juice over broccoli and toss to coat.
Season with salt and pepper, and sprinkle with the Parmesan cheese.