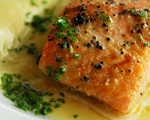 Prep: 5 min
Cook Time: 15 min
Total: 20 min
Serving: Makes about 2 cups
This light, buttery sauce is ideal for grilled fish as it keeps the flavors clean and simple.
Ingredients
4 tablespoons minced shallots
1-1/2 cups good-quality white wine like Riesling or chardonnay
1/4 cup fresh lemon juice
4 tablespoons unsalted butter
1/4 cup all-purpose flour
12 tablespoons chilled unsalted butter, sliced very thin
1/4 teaspoon salt
1/8 teaspoon white pepper
1 clove garlic minced
2 teaspoons chopped parsley
Directions
Add the shallots, wine and lemon juice to a small bowl and mix to combine. Set aside.
Melt 4 tablespoons of butter in a large sauté pan over low heat. Sprinkle in the flour and whisk until well combined.
Cook the flour mixture over medium-high heat until bubbly and brown, about 5 minutes. Slowly pour in the wine, whisking continuously, until mixture is smooth and thick, about 1 minute.
Turn the heat down to medium-low and simmer sauce for 2 minutes to reduce.
Take the sauté pan off the heat and whisk in the remaining chilled butter, making sure to stir constantly until well incorporated. Season the sauce with salt and pepper and then stir in the garlic and the parsley. Serve immediately.