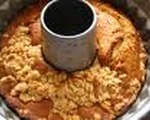 Prep: 15 min
Cook Time: 45 min
Total: 1 hr
Serving: 12
Easy to make and so moist, Lemon Bundt Cake from scratch will become a family favorite.
Ingredients
2 sticks margarine
1 1/2 cups sugar
3 eggs
2 1/2 cups flour
2 teaspoons baking powder
1/2 teaspoon salt
1 teaspoon baking soda
1 tablespoon vanilla
1 tablespoon lemon juice
1 cup sour milk *
cinnamon sugar ( 1/2 cup sugar and 1 teaspoon cinnamon)
Directions
*Make sour milk by placing a tablespoon of lemon juice in a one cup measure, fill with milk. Set aside.
Cream sugar and margarine. Beat in eggs. Sift dry ingredients together. Alternately, add 1/3 flour mixture, then 1/2 milk mixture until mixed. Add vanilla and lemon juice.
Pour 1/2 batter into a large greased tube pan. Sprinkle 1/2 of cinnamon sugar on batter. Add second 1/2 of batter. Top with remaining cinnamon sugar.
Bake at 350 degrees F for 40-45 minutes.