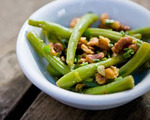 Prep: 10 min
Cook Time: 10 min
Total: 20 min
Serving: Makes 2 Servings
After blanching a vegetable, quickly rinse it under cold water to stop the cooking process and to keep it tender, then drain it well to remove any excess liquid.
Ingredients
1-1/2 pounds fresh green beans, ends trimmed
1 cup walnuts
3 tablespoons snipped fresh chives
2 tablespoons extra virgin olive oil
2 tablespoons freshly squeezed lemon juice
1/2 teaspoon lemon zest
Sea salt and freshly ground black pepper
Directions
Preheat your oven to 400 degrees.
In the meantime, bring a large pot of water to boil. Once boiling, add the beans and blanch for 5 minutes, and then rinse under cold water in a colander; drain well and then transfer to a large bowl along with the chives.
Spread the walnuts into a single layer on a baking dish and then place in the oven for 10 minutes. Chop the toasted walnuts once cool and then add to the bowl with the green beans.
Drizzle the olive oil over the bean mixture, sprinkle in the lemon juice and zest and then add a few pinches of salt and pepper. Toss the mixture to combine and then serve.