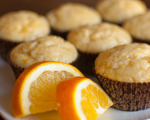 Prep: 10 min
Cook Time: 18 min
Total: 28 min
Serving: Makes 12 muffins
These muffins have wonderfully bright and citrusy flavor due to the fresh lemon and orange juice, and finely shredded zest used in the recipe.
Ingredients
Butter or oil to grease pan
2-1/4 cups all-purpose flour
3/4 cup sugar
1-1/2 teaspoons baking powder
1/2 teaspoon baking soda
1/2 teaspoon salt
2 slightly beaten eggs
1 cup applesauce
1/2 cup milk
2 tablespoons cooking oil
1/4 teaspoon finely shredded orange peel
1/4 teaspoon finely shredded lemon peel
2 tablespoons fresh orange juice
2 tablespoons fresh lemon juice
Directions
Preheat your oven to 400 degrees and grease a 12-cup muffin tin.
Place the flour, sugar, baking powder, baking soda, and salt into a bowl and stir well to combine. Set aside.
In a separate bowl, combine the eggs, applesauce, milk, oil, orange and lemon peel, and orange and lemon juice.
Make a well in the center of the dry mixture and then add the egg mixture. Stir unit just combined and then transfer the batter to the prepared muffin tin.
Bake the muffins for 18 minutes or until the tops turn light brown. Cool for 5 minutes prior to serving.