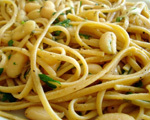 Prep: 5 min
Cook Time: 12 min
Total: 17 min
Serving: 4 Servings
This elegant dinner meal is made with pasta and cannellini beans tossed with a fresh lemon and basil sauce.
Ingredients
10 ounces dried spaghetti
1 19-ounce can white kidney (cannellini) beans, rinsed and drained
Juice of 1/2 lemon
Peel of 1/2 lemon, finely shredded
3 tablespoons olive oil
Sea salt and freshly ground black pepper
1 cup packed fresh basil leaves
Directions
Cook the pasta al dente according to package directions, but add the beans to the pot during the last 2 minutes of cooking.
Reserve 1/2 cup of the pasta water prior to draining, drain the pasta and then place back into the pot.
In the meantime, place 1 tablespoon of the oil in a small sauté pan and sauté the lemon peel over medium heat for 1 minute until golden.v
Place the cooked lemon peel, the basil, remaining olive oil, lemon juice, reserved cooking liquid and a pinch of salt and pepper into a food processor and process until mixture is smooth.
Pour the sauce over the pasta and toss to coat. Serve immediately.