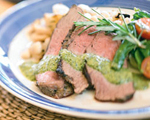 Prep: 25 min
Cook Time: 1 hr 25 min
Total: 1 hr 50 min
Serving: Serves 4-6
Looking for the perfect lamb recipe for Easter? This delicious medley of spices incorporates all of the wonderful flavors of the Mediterranean in a hearty yet simple roast lamb dish.
Ingredients
1 cup extra-virgin olive oil
1/2 cup fresh lemon juice
1/2 cup chopped fresh Italian parsley
1/3 cup finely chopped green onions
1/4 cup chopped fresh mint
1/4 cup brined capers, drained, chopped
1 tablespoon grated lemon peel
1/2 teaspoon dried crushed red pepper
1 teaspoon salt
1/2 teaspoon ground black pepper
1 5-1/2-pound boneless leg of lamb, butterflied, trimmed
10 cloves of garlic
Directions
Preheat the oven to 450 degrees.
For the salsa verde, whisk together the first ten ingredients in a medium bowl and then set aside.
Put the lamb, smooth-side facing down, on a clean work surface and sprinkle evenly with the salt and pepper. Make shallow 1/2-inch wide slits all over the lamb with a sharp knife, and then stuff one clove of garlic in each slit.
Rub the lamb with about 1/4 cup of the salsa and then place on a roasting pan and roast for about 1 hour and 25 minutes for medium-rare doneness or until cooking thermometer inserted in the thickest part of the lamb reads 120 degrees.
Remove the lamb from the oven and let sit for 15 minutes before slicing. Serve with the additional salsa.