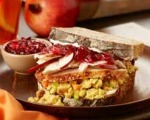 Prep: 10 min
Cook Time: –
Total: 10 min
Serving: 4 servings
Tasty turkey, cranberry sauce, apple and stuffing sandwiches. Perfect for Thanksgiving leftovers, using Hellmann's® Real Mayonnaise.


Cost per recipe*: $8.30.
Cost per serving*: $2.08.
*Based on average retail prices at national supermarkets.
Nutrition Information per serving:
Calories 420, Calories From Fat 130, Saturated Fat 2.5g, Trans Fat 0g, Total Fat 15g, Cholesterol 55g, Sodium 480g, Total Carbohydrates 47g, Sugars 21g, Dietary Fiber 6g, Protein25g, Vitamin A 2%, Vitamin C 4%, Calcium 8%, Iron 15%
Ingredients
4 tablespoons Hellmann's® or Best Foods® Real Mayonnaise
8 slices whole grain bread
1/2 cup prepared stuffing
1/2 pound sliced leftover or deli turkey
1/2 cup cranberry sauce
1 small apple, cored and sliced
Directions
Spread It: Spread Hellmann's® or Best Foods® Real Mayonnaise generously on 4 bread slices.
Layer It: Layer stuffing, turkey, cranberry sauce and apple on bread slices.
Top It: Top with remaining 4 bread slices.