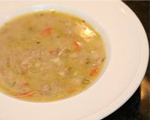 Prep: 15 min
Cook Time: 28 min
Total: 43 min
Serving: Makes 4-6 servings
Use the leftover turkey from your holiday meal to make this creamy turkey chowder with crumbled bacon and fragrant fresh sage.
Ingredients
4 bacon slices (about 4 ounces), coarsely chopped
2 cups chopped onions
1 pound russet potatoes, peeled, cut into 1/2-inch pieces
2 cups whole milk
1 cup canned chicken broth
2/3 cup condensed cream of potato soup
2 tablespoons chopped fresh sage
2-1/2 cups diced cooked turkey
Directions
In a large sauce pan over medium heat, cook the bacon for 8 minutes until crisp. Set aside on paper towels to drain.
Remove about half of the bacon drippings from the sauté pan and then add the onions and sauté for 5 minutes over medium-high heat.
Add the potatoes, milk, broth, cream of potato soup, and 1 tablespoon sage and bring the mixture to a boil before reducing the heat to medium-low and simmering for 10 minutes.
Stir in the turkey, bacon, salt and pepper and the remaining sage; simmer for 5 minutes and then serve hot.