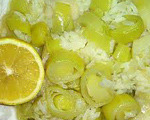 Prep: 1 hr 10 min
Cook Time: –
Total: 1 hr 10 min
Serving: 4 Servings
Also known as 'Prasorizo,' this simple Greek meal made with leeks and rice can be enjoyed as a side or a main vegetarian dish. Serve with an American Riesling or Gewürztraminer.
Ingredients
3 pounds leeks, trimmed and washed well
1/2 cup olive oil
1 onion chopped
3 cloves garlic, chopped
1 cup chicken broth
1/2 cup rice
3 celery stalks, chopped
2 tablespoons finely chopped fresh parsley
3 tablespoons finely chopped fresh dill
juice of half a lemon
salt and fresh pepper to taste
Directions
Using a sharp knife, cut the leeks in 1/2-inch pieces.
Place the olive oil into a large pot over medium heat. Once it begins to shimmer, add the onion, celery, and garlic and sauté for 5 minutes. Stir in the chopped leeks and cook for an additional 2 minutes.
Pour in the broth and then add a few pinches of salt and pepper. Bring the mixture to a boil and then reduce the heat to medium-low; gently simmer for 35 minutes.
Stir in the rice, parsley, dill and lemon juice, cover and cook the mixture for 30 minutes. Season to taste with additional salt and pepper, and then serve immediately.