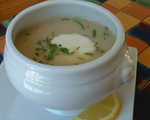 Prep: 25 min
Cook Time: 45 min
Total: 1 hr 10 min
Serving: 4 Servings
Soup is such a delicate and elegant way to start a dinner party. Enjoy this light and creamy soup made with leeks and seared scallops.
Ingredients
1 pound ramps leeks, coarsely chopped
2 tablespoons olive oil and 1/2 teaspoon
1/2 Vidalia sweet onion, thinly sliced
1/4 teaspoon white pepper
1/2 teaspoon salt
1/3 cup dry white wine
3-1/2 cups chicken broth
3 tablespoons unsalted butter
4 sea scallops
2 teaspoons garlic paste
Garnish with crème fraiche, truffle oil and chives
Directions
Place the olive oil in a large saucepan over medium heat and sauté the leeks, onion, white pepper and salt for 10 minutes, stirring occasionally.
Pour in the wine and bring to a boil, cooking until the wine totally evaporates.
Pour in the broth and the garlic paste and partially cover the pan. Allow the mixture to simmer for 20 minutes and then drop in the leeks and boil for approximately 5 minute.
Using an immersion blender, puree the soup until consistency is very smooth.
For an even more delicate consistency, strain the soup through a fine-mesh sieve and back into the pan.
In another sauté pan, pour in the 1/2 teaspoon of oil and distribute with a paper towel so it lightly covers the bottom of the pan. Heat the pan on medium-high heat and sear the scallops for approximately 3 minutes on each side.
Whisk the butter into the soup with a sprinkle of salt and heat soup through.
Place each scallop into a shallow soup bowl and then ladle in the soup. Garnish with a swirl of creme fraiche, a drizzle of truffle oil and a sprinkle of chives.