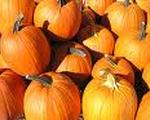 Prep: 30 min
Cook Time: 15 min
Total: 45 min
Serving: 8
A slice of Layered Walnut Pumpkin Pie is a nice way to end a great meal.
Ingredients
3/4 cup walnuts, chopped fine
1 envelope unflavored gelatin
1/4 cup cold water
1, 16 ounce can pumpkin
3/4 cup sugar
1/2 cup milk
3 large eggs, separated
1 teaspoon pumpkin pie spice
1/2 teaspoon salt
1/4 teaspoon vanilla
1 cup whipping cream
1, 9 inch baked, cooled pie shell
walnut halves for decoration
Directions
Soften gelatin in water in a 2 quart saucepan. Stir in pumpkin, 1/2 cup of the sugar, milk, lightly beaten egg yolks, spice and salt. Heat just to boiling, stirring constantly. Turn heat very low and cook 5 minutes, stirring.
Remove from heat; add vanilla and cool. Chill until mixture slightly thickens.
Beat egg whites to soft peaks. Gradually beat in 2 tablespoons sugar, beating until stiff. Fold into pumpkin mixture, along with chopped walnuts.
Beat cream with remaining sugar until very stiff. Turn half pumpkin mixture into pie shell and spread level. Top with 3/4 of the cream and spread in even layer. Spoon on remaining pumpkin filling. Decorate top with remaining cream and walnut halves.
Chill at least 4 hours before cutting.