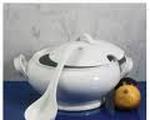 Prep: 15 min
Cook Time: 1 hr 50 min
Total: 2 hr 5 min
Serving: 6
Lamb Stew is a classic, hearty favorite.
Ingredients
2 pounds lamb stew meat, cut in 2 inch chunks
1/4 cup flour
2 tablespoons vegetable oil
1 onion, quartered
2 teaspoons salt
1 teaspoon dried basil
1/4 teaspoon pepper
2 cups celery, diced
4 carrots, diced
10 small white onions
Directions
On waxed paper, coat lamb with flour. In large Dutch oven over medium heat in hot oil, brown lamb. Add 4 cups water, onion, salt, basil and pepper; smimmer, covered, over medium heat one hour. Add celery, carrots and onions and cook over high heat heat until mixture boils. Turn down heat and simmer for 20 minutes.