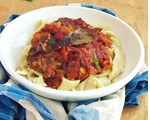 Prep: 15 min
Cook Time: 50 min
Total: 1 hr 5 min
Serving: 6 Servings
If you can find fresh egg noodles for this dish go ahead and splurge, because the flavors are phenomenal and the dish's presentation is fabulous.
Ingredients
3 tablespoons extra-virgin olive oil
1 carrot, finely diced
1 onion, finely diced
1 celery rib, finely diced
1-1/2 pounds ground lamb
2 teaspoons ground coriander
1 teaspoon ground fennel seeds
1/2 teaspoon ground cumin
1 teaspoon chopped rosemary
1 teaspoon chopped thyme
Salt and freshly ground pepper
1 tablespoon ketchup
1/2 cup dry red wine
1, 28-ounce can diced tomatoes
1-1/4 cups chicken stock or low-sodium broth
3/4 pound wide egg noodles
1 tablespoon unsalted butter
3/4 cup fresh ricotta cheese
2 tablespoons chopped mint
Directions
Heat 2 tablespoons of the olive oil in a large sauce pan over high heat and sauté the carrot, onion and celery for 5 minutes.
Add the lamb, coriander, fennel, cumin, rosemary, thyme and a sprinkle of salt and pepper, and cook for 5 additional minutes, stirring frequently.
Add the ketchup to the mixture and cook for 1 minute, then pour in the wine and cook for 5 more minutes. Finally, add the tomatoes and pour in the stock. Once the mixture boils, reduce heat to medium-low and simmer, partly covered, for 25 minutes.
Cook the wide egg noodles according to the directions on the package. Drain and add to the sauce, along with the butter and the last 1 tablespoon of oil. Toss gently to coat. Place the pasta into individual bowls and then top with the ricotta and fresh mint.