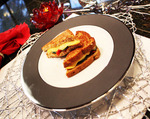 Prep: 5 min
Cook Time: 10 min
Total: 15 min
Serving: 1 person
Veggies like cucumber and red bell pepper liven up this KRAFT 2% Milk Singles Grilled Cheese Sandwich, a twist on the classic grilled cheese sandwich.
Ingredients
1/4 cup sliced zucchini
2 slices whole wheat bread
2 KRAFT 2% Milk Singles
1/4 cup roasted red pepper strips
Directions
Cook and stir zucchini in small skillet until tender.
Fill bread slices with 2% Milk Singles, zucchini and peppers.
Cook in skillet sprayed with cooking spray on medium heat 3 min. on each side or until golden brown on both sides.
Nutrition Information Per Serving: 260 calories, 8g total fat, 3.5g saturated fat, 0.5g trans fat, 20mg cholesterol, 1080mg sodium, 31g carbohydrate, 4g dietary fiber, 7g sugars, 17g protein, 60%DV vitamin A, 60%DV vitamin C, 60%DV calcium, 10%DV iron.