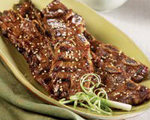 Prep: 2 hr
Cook Time: 8 min
Total: 2 hr 8 min
Serving: 4 Servings
These short ribs are unbelievably delicious and great for a barbecue. Make sure you find a good quality Chinese oyster sauce because it really adds to the flavor of the ribs.
Ingredients
1 cup sugar
3/4 cup Chinese oyster sauce
1/2 cup soy sauce
1/2 cup sake, Chinese rice wine, or dry sherry
3 cloves garlic, minced
1 piece (1 inch) peeled fresh ginger, minced
2 scallions, white parts minced, green parts thinly sliced
3 pounds bone-in individual beef short ribs, cut crosswise into 1/2-inch-wide pieces
Vegetable oil for brushing grill gate
Directions
In a large bowl, whisk together the sugar, oyster sauce, soy sauce, sake, garlic, ginger, and the white part of the scallions. Marinate the ribs, covered, in the refrigerator for 2 hours.
Prepare the grill on medium-high heat and brush the grill gate with oil to prevent sticking.
Grill the short ribs for 4 minutes per side for medium doneness and then transfer to a serving plate. Sprinkle with sesame seeds and the green part of the scallions and serve immediately.