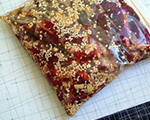 Prep: 5 min
Cook Time: 2 min
Total: 7 min
Serving: Makes about 2 cups
A traditional Korean marinade for Bulgogi; strips of marinated steak served over lettuce or rice. Pour the marinade in a Ziploc bag with the beef, and marinate overnight.
Ingredients
1/2 cup soy sauce
1/3 cup sugar
3 tablespoons sake (or rice wine or sherry)
2 tablespoons sesame oil
8 cloves garlic, minced
4 scallions (green onions), minced
2 tablespoons sesame seeds
1/2 teaspoon black pepper
Directions
Place the sesame seeds in a medium sauté pan over high heat, and gently toss until they just begin to brown.
Add the soy sauce, sugar, sake, sesame oil, garlic, scallions and black pepper to the pan and stir to combine.
Remove the pan from the heat and allow the marinade to stand for 5 minutes before using.