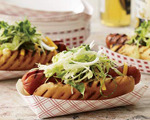 Prep: 15 min
Cook Time: 8 min
Total: 23 min
Serving: 8 servings
Kimchi is a spicy pickled cabbage mixture that also happens to be the national dish of Korea. Enjoy it in this homemade version of LA's famous Kogi hot dogs.
Ingredients
2 cups finely shredded cabbage
1 large scallion, finely chopped
1 tablespoon fresh lime juice
Salt and freshly ground pepper
1 tablespoon toasted sesame seeds, crushed
1/2 cup mayonnaise
Vegetable oil
1 cup kimchi, drained and patted dry
8 hot dog buns, split and brushed with oil
8 all-beef hot dogs, partially split
1 cup shredded sharp cheddar
2 cups shredded romaine
1 small onion, thinly sliced
2 cups cilantro sprigs
Sriracha, for drizzling
Directions
Prepare your grill on medium-high heat.
Place the cabbage, scallion, lime juice, a few pinches of salt and pepper into a bowl and toss to combine. Set aside.
Put the crushed sesame seeds and the mayonnaise into another bowl and stir well to blend. Set aside.
Place the oil into a skillet over high heat. Once shimmering, add the kimchi and cook for 3 minutes until browned. Set aside.
Place the buns onto the grill and toast for 40 seconds flipping once. Set the buns aside to cool and then spread with the sesame seed mayonnaise, the kimchi mixture and cheddar once cool enough to handle.
Cook the hot dogs on the grill for 3 minutes, and then place onto the prepared buns. Top each dog with the cabbage mixture, some shredded romaine, onion, cilantro and a drizzle or Sriracha. Serve immediately.