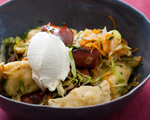 Prep: 8 min
Cook Time: 12 min
Total: 20 min
Serving: 4 Servings
This hearty meal looks deceivingly time consuming and complicated however, it can actually be ready and on the table in just 20 minutes. Enjoy this satisfying dish with a glass of cabernet savignon.
Ingredients
1 tablespoon vegetable oil
12 ounces smoked kielbasa, cut into one-inch-thick slices
2 tablespoons unsalted butter
1 medium onion, coarsely chopped (about 1 cup)
Sea salt and freshly ground black pepper
1 14-ounce package coleslaw mix
13 ounces fresh potato pierogis or one pound frozen
1/3 cup chopped fresh dill
sour cream for serving
Directions
Place the oil in a large skillet over medium high heat. Once hot, add the kielbasa and brown on both sides for 4 minutes then remove from the pan and set aside, keeping warm.
Put the butter into the skillet; add the onion and a pinch of salt and then toss to coat. Sauté the onion for 6 minutes and then stir in the coleslaw mix, 1/4 cup water and a few pinches of salt and pepper. Toss to combine and then cook for 5 minutes.
In the meantime, prepare the pierogi according to package directions, drain and then place in the skillet. Toss the mixture to combine and then place into serving bowls. Add the kielbasa to the bowls and then top the mixture with a dollop of sour cream. Serve immediately.