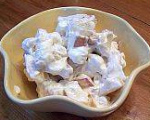 Prep: 8 hr
Cook Time: 15 min
Total: 8 hr 15 min
Serving: 6 servings
Always a kid pleaser, yummy, cremy taffy apple salad.
Ingredients
1 (20 ounce) can pineapple chunks
2 tablespoons apple cider vinegar
1/3 cup white sugar
1 large egg, slightly beaten
1 tablespoon flour
8 ounce whipped topping, thawed
4 large apples diced
1 cup minature marshmallows
2 cups peanuts
Directions
In a sauce pan combine the drained pineapple juice, vinegar, sugar, egg and flour. Stirring constantly, heat on medium until thickened. Remove from heat.
Pour the juice mixture into a bowl and mix in the whipped topping. Add in the pineapple, apples, marshmallows and peanuts until well coated.
Refrigerate for 8 hours.