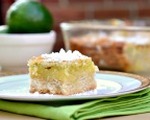 Prep: 20 min
Cook Time: 40 min
Total: 1 hr
Serving: 8 People
Key lime pie is one of the most popular kinds of pie there is. Filled with lime, topped with meringue baked into a cruncy crust, this pie is like a vacation for your tastebuds. However, making your own Key lime pie can be a bit of a hassle (meringue is very tempermental). Instead of slaving away trying to make the perfect peak of fluffy egg whites, take your favorite Key lime flavors and bake them into bars instead! Requiring far less time, effort and clean up, these are the perfect bite size, on-the go spring and summer dessert.
Ingredients
1/2 cup unsweetened applesauce
1/2 cup butter, softened
1/2 cup powdered sugar
2 cups flour
FILLING
4 eggs, beaten
1 cup brown sugar
1 cup white sugar
6 tablespoons flour
1/3 cup fresh lime juice
4 tablespoons lime zest
Powdered sugar
Salt
Directions
Preheat oven to 350 degrees F. Grease a 9x13 pan liberally with cooking spray.
To make the crust, combine butter, applesauce and powdered sugar in a large bowl and beat until fluffy with a hand held mixer. Add in flour and mix well until batter forms a dough. Press dough into the bottom of the pan using a spatula.
Bake for 22-25 minutes or until golden brown. Remove from oven and let cool completely.
To prepare the filling, whisk eggs with sugars in a large bowl until fully mixed. Add in flour, salt and lime juice and mix well. Fold in the lime zest. Pour mixture evenly over the crust.
Bake for at least 20 minutes or until topping is golden brown on top. Let cool. Sprinkle with powdered sugar and cut into bars!