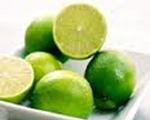 Prep: 30 min
Cook Time: 15 min
Total: 45 min
Serving: 8
Classic and tangy Key Lime Pie is a summer favorite.
Ingredients
1 envelope unflavored gelatin
1/2 cup sugar
1/4 teaspoon salt
4 eggs, separated
1/2 cup sugar
1/2 cup Key Lime juice
1/4 cup water
1 teaspoon grated lime peel
few drops green food coloring
1 cup whipped cream
1, 9 inch baked pie shell
Directions
Mix gelatin, 1/2 cup sugar and salt in a saucepan. Beat together egg yolks, lime juice and water. Stir into gelatin mixture, cooking over medium heat, stirring until mixture comes to a boil. Remove from heat, stir in grated peel; add color to a pale green. Chill, stirring occasionally until mixture mounds slightly when dropped from spoon.
Beat egg whites until soft peaks form, gradually adding 1/2 cup sugar while beating after each addition. Fold gelatin mixture into egg whites; fold in whipped cream.
Pour into baked shell and chill until firm. Top with a dollop of whipped cream, if desired.