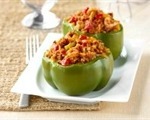 Prep: 20 min
Cook Time: 25 min
Total: 45 min
Serving: 4 servings
Bell peppers stuffed with beef, rice, tomato and Kellogg's All-Bran® cereal
Ingredients
175 millilitres (3/4 cup) All-Bran Original® cereal
4 large green or red peppers
1 onion, finely chopped
375 grams (3/4 pound) lean ground beef
1 clove garlic, minced
375 millilitres (1-1/2 cups) cooked rice (from 125 millilitres raw)
250 millilitres (1 cup) canned tomatoes with juice
1 can (398 millilitres) tomato sauce, divided
5 millilitres (1 teaspoon) dried oregano leaves, crushed
2 millilitres (1 teaspoon) salt
Pepper to taste
50 millilitres (1/4 cup) grated cheddar cheese (optional)
Directions
Wash peppers and cut in half lengthwise. Remove core, white ribs and seeds. Blanch peppers in boiling water for four minutes. Drain and set aside.
In large skillet over medium heat, cook beef, onions and garlic until meat is brown; drain. Remove from heat. Stir in cereal, rice, tomatoes, seasonings and 125 millilitres (1/2 cup) of tomato sauce.
Spoon mixture into peppers. Place in baking dish just large enough to hold them. Sprinkle with cheese if desired. Pour tomato sauce around peppers. Bake at 180 degrees C. (350 degrees F.) 20 to 25 minutes or until hot.