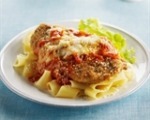 Prep: 30 min
Cook Time: 20 min
Total: 50 min
Serving: 8 servings
Crispy, crunchy chicken parmigiana made with Kellogg's All-Bran® cereal
Ingredients
250 millilitres (1 cup) All-Bran Buds® or All-Bran Original® cereal
125 millilitres (1/2 cup) Italian bread crumbs
125 millilitres (1/2 cup) fresh grated Parmesan
4 boneless, skinless chicken breasts, cut in half lengthwise
2 eggs, lightly beaten
500 millilitres (2 cups) pasta sauce (marinara)
50 millilitres (1/4 cup) olive oil
750 millilitres (3 cups) shredded mozzarella cheese
Directions
In a shallow dish, mix together cereal, breadcrumbs and Parmesan; set aside.
Tenderize and flatten chicken by placing between waxed paper and pounding lightly with meat mallet. Pour egg in shallow dish. Dip chicken into eggs and then into cereal crumb mixture. Repeat to coat chicken a second time in both egg and crumb mixture for an extra-crispy coating.
Spread half of the marinara sauce onto the bottom of a 4-litre (13 x 9-inch) baking dish; set aside.
Heat half of the olive oil in a large frying pan over medium-high heat. Brown half of the chicken on both sides and transfer to prepared baking dish. Repeat with remaining oil and chicken. Top with remaining sauce and sprinkle with cheese.
Bake at 180 degrees C. (350 degrees F.) for 20 minutes or until chicken is cooked through, sauce is hot and bubbling, and cheese is melted and golden.