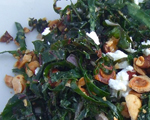 Prep: 20 min
Cook Time: 9 min
Total: 29 min
Serving: Serves 4
This winter vegetable is related to cabbage but has a deep dark blue-green color and more of a woody, slightly bitter taste. You can easily boil, sauté, steam even roast this versatile veggie, or add into soups for extra flavor and texture.
Ingredients
1 bunch of Kale
1/2 cup of walnuts
1/4 cup of Parmesan
3 tablespoons of Olive Oil
Salt and pepper to taste
Directions
Prepare your oven broiler.
Wash the Kale in a basin of cold water and then spin dry and roughly chop.
Place a large sauté pan over medium heat and add the olive oil.
When the olive oil is hot, but not smoking, add the kale and sauté for about 6 minutes.
Sprinkle in the walnuts and continue to sauté for about 2 minutes, until walnuts are fragrant and lightly toasted.
Empty the kale and walnuts into a baking dish and cover evenly with the Parmesan cheese. Put in the oven and broil until cheese melts and becomes golden in color.