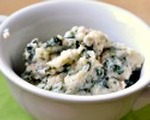 Prep: 15 min
Cook Time: 30 min
Total: 45 min
Serving: 8 People
Kale is one of the most popular ingredients right now due to how healthy and verstaile it is. However, kale on it's own can be a bit... leafy. So instead of eating just leaves for dinner in order to get your superfood fix, throw some of this green vegetable into a comfort food favorite of yours -- like mashed potatoes! Although the mixture doesn't seem like it could work, kale and mashed potatoes make the perfect fit. The kale makes this traditionally high-fat, low-nutrient side dish a health boost while the mashed potatoes make it easier to eat. Plus, what's not delicious when paired with mashed potatoes?
Ingredients
5 large russet potatoes, rinsed
4 cloves garlic
2/3 cup low sodium, organic chicken broth
1/4 cup fat free sour cream
2 tablespoons low-fat cream cheese
1 tablespoon olive oil
1 cup kale, wilted
Liberal dashes of salt and pepper
Directions
Prepare potatoes by cutting them into quarters and placing them in a large pot. Add enough water to cover them and set to boil. Boil potatoes for about six minutes or until soft when pierced with a fork. Rinse and place back into the pot.
While potatoes boil, saute garlic in 1/2 tablespoon of olive oil until softened, about four minutes.
Add in 2/3 cup chicken broth, cream cheese, sour cream and garlic. Beat with a handheld mixer or immersion blender until soft. Stir in wilted chopped kale. Add additional chicken broth or cream cheese for creaminess. Season liberally with salt and pepper and enjoy!