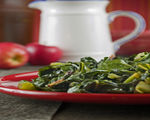 Prep: 5 min
Cook Time: 10 min
Total: 15 min
Serving: 4
A simple pairing of hearty kale and buttery walnuts makes a fabulous side dish for fish, poultry, or, for a vegetarian meal, baked falafels (chickpea patties). The many varieties of kale will keep this recipe fresh and interesting.
Ingredients
1 ½ pounds kale, washed, tough stems removed (about 8 cups)
1 teaspoon olive oil
2 cloves garlic, thinly sliced
½ cup walnuts
½ cup water
Pinch salt
Directions
Coarsely chop kale and set aside.
Heat oil in a large nonstick saucepan over medium heat.
Add garlic and walnuts.
Cook, stirring frequently, until fragrant, about 1 to 2 minutes.
Remove garlic and walnuts with a slotted spoon and set aside.
Add kale and water and sprinkle with a pinch of salt. Toss, cover and cook until kale is wilted, about 5 to 7 minutes.
Add walnuts and garlic, toss, cook for another minute and serve warm.